Skip to content
Wine Courses
The world of wine is vast and can seem daunting. Knowing where to begin, what to study, and how is VERY important. Our wine courses take out the guesswork.
Spirit Courses
The spirits industry is ever-expanding with new products and styles every year. Our courses will bring you up to speed and allow you to speak competently on the subject.
Sake Courses
The exciting world of Japan's most famous beverage awaits. Our course explores this ancient category and will broaden your knowledge beyond expectation.
We take the pretentious out of wine education
If attending a wine course has always seemed intimidating, fear not. Our courses lay out exactly what you need to know without distractions or charades. We'll bring you up to speed with not just the history and geography of wine but the latest developments that make this subject so fascinating. You'll leave with broader knowledge and more meaningful fascination.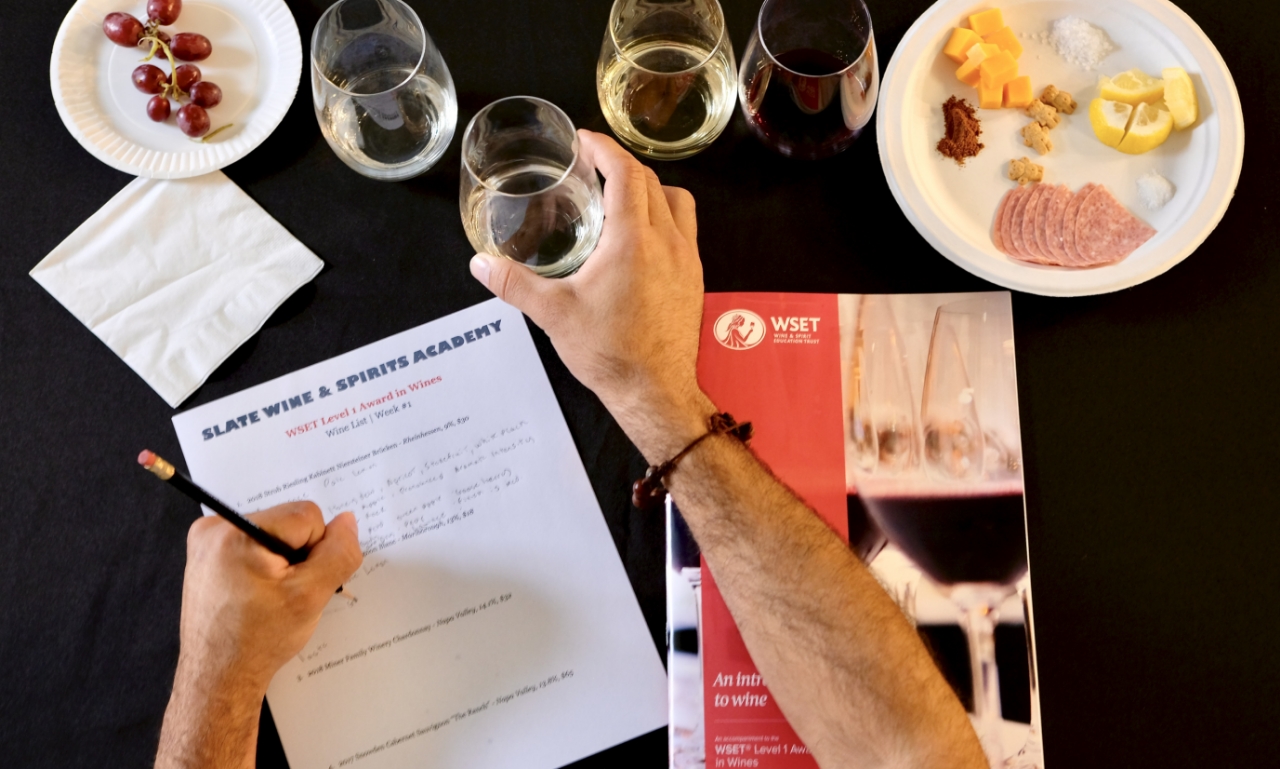 I appreciated Lee's ability to understand where people in the class were coming from. Helping people to understand why they thought a certain way (sometimes incorrectly) helps to redirect their understanding to the correct outcome. For me, this was especially helpful in the tasting portion. The little connections helped me to cement the full understanding.
Sean W.
I have come to Slate for 3 different courses & each time it has been a great experience. Even through an online version, Lee made sure he was always available to help us & really helped navigate the process of the WSET Level 3. His teaching allowed me to learn the material, not just memorize it for the exam. Highly recommend!
Isabelle H.
The courses Slate Wine Academy offers are an exceptional and engaging way to learn about wine in an elevated fashion. As just a hobbyist I feel that I am not only better equipped when making decisions at restaurants or in the store; but it has also exposed me to so many varieties I will explore for years to come. It was well worth the money, and I consider it an investment in one of my passions.
Josh M.
Be bold and take your wine knowledge to the next level
Choosing the right course will not only enrich your life but also put you in a position to enrich the lives of others. There are so many benefits of taking our wine education courses, including:
The ability to carve out a career in the wine industry
An improved sense of understanding when drinking wine
An enhanced social life by giving yourself the ability to recommend wines to others and provide interesting insight
A heightened confidence when making decisions and purchases
An understanding of tasting methods and techniques so all wines taste as the producers intended
We are wine educators, wine speakers, wine drinkers, but we are not wine snobs. Our first priority in the classroom is the comfort of our students. We aspire to build your confidence, sending you home with newfound knowledge and a sense of accomplishment.
Lee was a wonderful and helpful instructor that helped build confidence throughout the course by sharing his wealth of knowledge with each class. I highly recommend attending any class where he is the teacher.
Angeline G.
The classes presented by Slate Wine Academy are the most organized and easily understood available. It was a lot of material but explained in a manner that it made learning fun and enjoyable. I was almost sad when the classes ended. I would certainly recommend to anyone wishing to further their understanding of wine to use Slate Wine Academy and feel lucky to get Lee Pancake as the instructor.
Mike M.
I have taken WSET Level 1, 2 and 3 with Slate Wine & Spirits Academy and I have gained more wine knowledge than I ever thought possible. The amount of information needed for the exam is a lot and I have always felt confident in my ability to pass thanks to Slate.
Audrey L.
Our main focus is the success of our students
Everyone's learning journey takes a different path. It's our job to help you navigate uncharted territory and successfully arrive at your WSET Award destination. You'll have access to:
A WSET-certified educator by text, phone, or email throughout your learning journey
Tasting note submission feedback, quiz question feedback, general course material questions, etc.
Discounted course wines for purchase
Theory & Tasting Review sessions with a WSET nominated educator
SWSA live classroom session recordings for Levels 2 & 3 in Wines
Lee provided us with such an amazing WSET Level 1 experience. It is so much easier and fun to learn when the instructor is so passionate and knowledgeable about the subject he is teaching. The level 1 experience had me craving for the next level and I cannot wait to continue my wine education with Lee in WSET Level 2!
Matt M.
Mr. Pancake is a wonderful instructor. His knowledge of wine is impressive, his teaching style is engaging and enthusiastic. I thoroughly enjoyed the classes and they increased my understanding of wine!
Marion R.
Connor was great! He was very thorough with the information and was very clear in his responses to all questions we had asked. The class was easy to follow, and he kept everyone engaged the entire time. I was surprised how fast the time went by.
Kauilani D.
Companies that trust us with the certification of their staff
When working with clients at Tim's Wine Market it is immediately apparent when I am helping a Slate Wine Academy student or graduate. They ask more complex questions, aspire to understand each bottle to a greater degree, and bring a professional level explanation to the experience they are seeking. Professionally it also allows us to offer a wider range of unique selections, as the growing legion of Slate graduates constantly want to stay on the cutting edge of what is new and interesting in wine.
Tim Varan, CWE
Tim's Wine Market
Slate Wine & Spirits Academy is an excellent provider of wine education. Several members of our team have greatly benefited from the courses taught by Lee and his colleagues. I would highly recommend Slate to anyone interested in furthering their wine knowledge.
George Miliotes, Master Sommelier and Proprietor
Wine Bar George at Disney Springs
Slate Wine Academy has given myself and my team a critical leg up in wine knowledge captured through their WSET courses. The instructors are industry professionals that are engaged, supportive and always available to assist their students with questions or concerns. Working in a wine and hospitality driven environment, I feel very fortunate to have had the opportunity to learn with Lee and his team for this crucial credentialing process.
Lisa Reilly, Business Manager
Ednas' Hospitality Group
For Enthisiasts
Even if you don't intend to make a career out of your knowledge, education in wine can improve your social life and confidence, and give you greater insight into your passion.
For Professionals
If you are looking to make a career out of your passion for wine, we can help. Our Wine & Spirit Education Trust (WSET) qualifications are considered the gold standard, designed for those already established in the wine industry or looking to break into it.